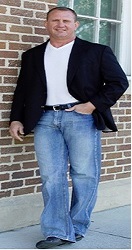 I've been in the Real Estate game approximately 15 years since I quit the Police force. I went full force into the rehab and flipping investing game. I was rehabbing an average of 16 homes a year until everyone else got into it and started paying way too much for the homes. So I started building homes. I've done that for the last 7 years and have built over 150 houses. I've almost completed building my first 2 four-plexes and will be holding them for cash flow.
Now the market has come full circle again. It's very hard to build and make any money on new homes now and also much more harder to sell them. So, I've decided to get back into the investing game again. There are so many deals out there right now that I just can't buy them all.
2012 started off with real estate investing fireworks. In January, I wholesaled 2 homes for a total profit of $17,000 and the funny thing about it is that I assigned them to my HVAC Contractor. Who would have thought that some of my best sub-contractors are buy and hold guys?
Just finished the first rehab for the year with two other projects in the works. I Paid $20,000 for a Single Family Home and put $13,000 worth of repairs and materials into it and have it listed for $75,000. I'm owner financing those to credit challenged people.
I've listed the house on a "Rent to Own" option and its priced at $75,000. I've had 4 applicants so far, but none that met my requirements. This is how our rent to own program works. RENT TO OWN seems to get peoples attention here better than "Owner Financing". So when they are interested in it we have them fill out a small loan application and ship over to our mortgage officer.
She'll pull credit and check other minor things. We aren't concerned with credit score because we have a credit repair company work on the buyers file for us and we pay for that at closing. Our biggest concern is judgments, collections, DTI (debt to income) and that they've filed last two years tax returns.
We have them sign a Purchase agreement, early occupancy agreement and a statement of understanding for credit repair. We don't do lease agreements. They know they are buying from the start and sign a agreement that says if they do anything to mess up their credit during the process the contract is voided and they get out and forfeit all monies.
Our goal is to have them get normal financing wit in a year. Living in the home also allows them to build up the down payment. Nowadays FHA Loans require 3.5% buyers down payment and Conventional Lenders requires close to 5% down. We put half the monthly rent cash-flow into our escrow account to allow seasoning.
Most lenders need to be able to track the down payment for at least 2 months, to make sure the buyer didn't get a payday loan or something like that for the down payment. Once the credit repair company says they are good to go and the lender has all the docs met, we close.
My favorite thing is to find the deal. Hunting down home owners of vacant houses and getting them under contract is a true adrenaline rush for me. I consider myself a Real Estate PREDATOR!!!!
Jay London
Apache, OK