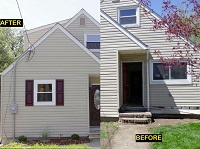 My name is Gary Laterovian, I'm currently employed full time, getting my MBA, and flipping homes (the best part of my life right now) and I live in Bergen County, New Jersey.
After seeing people flip homes, hanging out in online real estate investing forums, and searching up about it on Google – I decided to take a stab at it! Why not right??
Here's story about my first rehab flip investment deal. Now where do I start??? Remember this is my first rehab flip so I thought I would share below my timeline which might help other investors starting out in investing:
THE DEAL
I found an REO home (bank owned resale) on the MLS in Carlstadt, NJ. Having some knowledge of "flip analysis" (thanks to you guys!) it made sense to do this deal.
I partnered with my brother, and we put in a full asking offer. The offer was accepted, and we got the rehab investment property was under contract just like that.
This is when the poop hit the fan – I could not really belive it was happening!!!! The bank wanted to close in 25 days and my brother and I did just that.
The Rehab Timeline
==>Get architectural drawings of the renovation (you might not need it if your only "painting"). We were creating an open floor plan, taking down walls, building a bathroom in the basement, etc…
==> Get Bids / find your tradesmen (plumber / electrician / framer)
==> Submit permit applications to the town for approval
==> Once application was approved we started on the Demo Fun!!!!
==> Demo completed so when then began framing
==> Framing was completed. We had to call for a framing inspection (PASSED)
==> Electric / Plumbing roughing started
==> Roughing completed, which called for another phase inspection (PASSED)
==> We needed to have a 2nd framing inspection after roughing was completed (PASSED)
==> Insulation started and completed inspection (PASSED)
==> Next it was time for sheetrock and floors
==> After sheetrock and floors had been completed, we started: painting / all finals (plumbing / electric) cabinet install, granite, tile work, etc…
==> Once all renovations and repairs were completed we needed a "final" inspection for plumbing and electrical (PASSED)
==>After all phase inspections passed we had to get a CO [Certificate of Occupancy] to sell the house.
==> CO was obtained very easily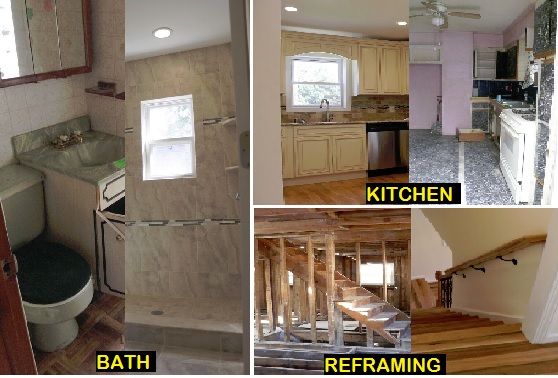 Flipping Profits
Whhhewwww after 6 months of renovations we finally got to list this flip deal on the market (MLS).
Ready for the best part…. We had a FULL ASKING OFFER IN 8 DAYS!!!! WOOOOWWWWHHH!!!
Sold the house, walked out with a net of $50K+ in a matter of 6 months. That's $8K a MONTH kind of profits! Flipping houses is so much fun and rewarding – it's the best people! Anyone can do this.
I have flipped 5 houses within 1.5 yrs and have 4 houses in the "pipeline".
I hang out in REIClub online investing forums and it makes me happy to share how I successfully completed my first rehab flip with you guys.
Good Luck!
Gary Laterovian
Bergen County, New Jersey