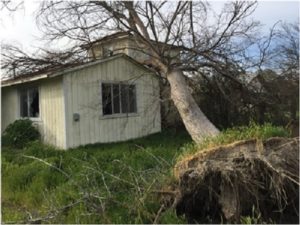 I got this lead from my bird dog Luis. Luis found this deal through another wholesaler named Bill that was trying to sell an old house out in the boonies, a small farming town about an hour's drive from my city.
Bill wants $37K for this 2 story, 4 bedroom house built in 1920 & he had it on contract for $30,500. I soon get an agreement in writing with Bill and I send it out to my buyers list for $47K.
My favorite buyer Steve sent me an email back communicating to me that he wants this deal and I send him my assignment contract. Bill was complaining that I was making more than him and he suggested we reduce the bird dogs cut so he feels warm and fuzzy & can make the same as me. I resisted the temptation to tell Bill what I thought of his suggestion and told him to let's run it through just as it is because, without Luis, the bird dog, we both would have nothing. He was hesitant – but finally agreed.
Everything was great until Steve the buyer went to inspect the property. Imagine this, a 1920's house out in the sticks, that's never been upgraded, needs all new electrical, plumbing, sheetrock and probably foundation work and flooring. Then a HUGE tree falls on it. Steve says he can't do $47K but he can seal the deal and be all in at $40K. After a week he then backs out on the $40K price.
It took over 2 months to find a new buyer even though I was getting tons of calls. Finally, Bill renegotiates the price down to $28K. Bill got this deal from 3 investors that paid over $42K for it. Looks like they started pulling the cabinets out and never did anything else. To make things further worse, when the big storm came thru and blew the huge tree on it – that was their breaking point and they decided to bail at a loss.
Finally I get a call from a buyer named Jake, he wants it at $37K! I start escrow and a week later – the Title Agent says she can't get a hold of Jake. Jake tells me by text that the monies will be deposited into escrow the next day. Then we waited & waited. Jake won't answer his phone or texts or email. My thoughts were – Jake is a flake.
So I start running new ads to get the house back in play. I received many inquiries but once prospective buyers took a look over at the property – they ran for the hills.
Then weeks later out of the blue our Title Agent, Grace, emails to say Jake has wired funds into escrow and it's scheduled to close in a few days. Holy crap, it took 3 weeks for him to get his funds together and he had never replied to any of our contact attempts. I was ready to give up on this deal several times.

The selling/sold price was $37,000.
The original owners received $28,000.
Bill the first wholesaler earned $5,000.
I made $3,000 and Luis, the wild but friendly bird dog, made himself a $1,000 payout.
I never saw this house, I never met the sellers or the other wholesaler Bill – IN FACT, – I never met the bird dog Luis or our end buyer Jake. Now that I think about it, all I did was place ads on Craigslist to get this puppy sold.
Let's make some Money Wholesaling….
Randy Phillips
Clovis, CA