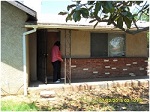 My Bird Dog had sent me quite a few addresses of houses he found but I wasn't able to do any deals on them. He was becoming frustrated and losing motivation. I suggested he spend a few hundred bucks on some bandit signs. He did just that and purchased 50 preprinted bandit signs with his phone number on them.
He placed a few in a nearby town about 30 minutes away. At first we got a few calls that didn't pan out, but after a few months, we got the money call.
A lady named Sandy had an inherited house from her mother that she had been renting out. Her Tenants had been there for 5 years. The house was a 3/2 that sat on a full acre and zoned for horses or livestock and also had a 2/2 mobile on it that renters were currently moving out, and they were paying $850 in rent.
The condition of the house declined due to the Tenant's teenage kids and pets trashing the house. No major repairs was necessary, just a good cleaning and hauling off all the junk, painting and new flooring – with maybe a few new doors and screens is what she believed the house needed.
I determined the value after repairs was around $150,000 or more with the income generating mobile which by the way, was also trashed. Sandy tells me she wants $90,000 I told her, I will see what I can do and met her at the house.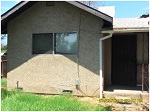 We settled on $65,000. I then pitched it to my buyers list – get this – I sold it for $75,000 in less than 2 hours! I told my buyer we had to rush this through closing because the seller was desperate.
It took exactly 3 weeks to close on this deal. Sandy called me several times asking for an advancement. I explained she had to be patient and to hang in there. Investors – never cave in to cries for money before closing. Everyone will get their share at closing.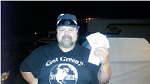 Once it closed, I called my bird dog to share the good news and let him know that I had his bird dog reward per se for him. He was driving a truck and was in Oregon at the time.
A few nights later he drives that big old Semi Truck to my house and parks it out in the street blocking the entire road. I snapped a photo of him holding his $2,000 finder's fee in cash with that truck in the back ground. He was one happy bird dog.
It's a strange feeling to pick up $8,000 just for sending an email to my buyer. Especially when I used to work for 3 months doing construction to make 8K. That is the best part about wholesaling I guess.
It's a great feeling to help out the homeowner, get my buyer a great deal and get me & my bird dog some cash.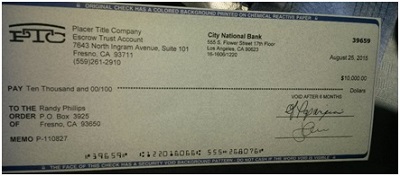 Everybody was smiling on this deal.
Let's make some money…..
Randy Phillips
Clovis, CA