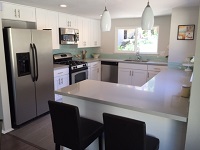 As most investors and real estate agents know, the first two weeks that a property is on the MLS – is the most important time for a listing. It's the time that the property will get the most exposure and activity from potential buyers. Once those two weeks go by, the activity starts to dwindle and the window of opportunity, to get offers at or above list price, starts to close. So, when a property has been on the market for over 30 days, depending on the motivation, a seller may be more than happy to take a lower cash offer with a quick close and no contingencies, giving an investor/buyer a great opportunity.
I represented the investor on the buy, and negotiated the price that would allow enough room for rehab costs and a decent return, which is hard to come by here in Ventura County, but doable. This property is located in a very desirable area of Conejo Valley, with an award-winning school district. I saw it on the MLS with a starting list price at $620K, and within a month's time, the price had been reduced a few times down to $550K. That's how I identified that this was a real motivated seller. After running the numbers, I presented the investor/buyer with this opportunity at $445K, $60K rehab costs, $600K ARV, $35K back-end closing costs, and $60K return.
One thing that helps me negotiates, and get an investor/buyer's offer get accepted is the ability to close within a week or so. It doesn't work all the time, but may work with a motivated seller, whose property has been on the market for some time.
Anyway, we got the offer accepted and the investor, who's also got a great contractor team, started the rehab. Seeing as I was also getting the listing once completed, they allowed me to have some input on the finishes, which I felt would help me present the property in detail to potential buyers and agents, and justify the future sale price.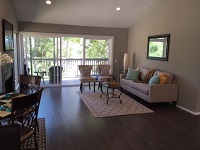 After a few months, the property was completed and ready to list. The investor and I used our own furniture to stage the property. I was hoping to attach some pictures, so that I can show you the entire finished product.
One of the strategies that I use to build momentum on a listing is to email-blast agents (local and surrounding areas) this property as a pocket listing. It gives a sense of urgency and the impression that something great is available only to a few for a limited time, and any exposure to the market may make their chances of getting their offer accepted, more challenging.
To conclude, we got the offer we were looking for. We had a few hiccups during escrow but managed to pull through. This transaction and others continue to help me learn things that I feel will enable me in the future to be a better representative. We're on the next property in Pasadena, which I'm eager to share, once that's completed. Thanks for allowing me to share this experience.
I just wanted to share this success story as a real estate investor-friendly agent here in Southern California and hope it inspires you guys to get out there and make it happen with your real estate investing and let you know to finding the right agent can make all the difference.
Tim Soto
Southern California