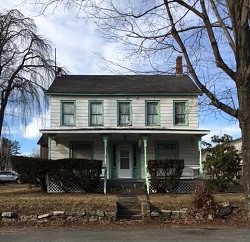 Hi. My name is Sandor Gross. I am a fairly new real estate investor.
For the last 14 years I have owned and operated a landscape business, in which I am my own boss. After many discussions with my wife, and the physical work and demand I put on my body on a daily basis, I have set a goal to retire from the landscape business in 5 years from now. I have come to realize the fact that even though I retire, I will not have enough money to live on, pay living expenses, and be able to support my family and put 3 kids through College. So I decided to make a change and learn something new
Last year, in 2015, I decided along with my wife to enroll in the JumpStart Real Estate Training Program with Fortune Builders, Inc. During that training we have learned so much about real estate. We were exposed to stuff about real estate we weren't even aware of.
We have learned everything from buying, to selling, to renovating and wholesaling houses. It blew our minds. Learning all this new information got me really thinking. What if I can really do this and earn a substantial income without all this physical labor I put my body through?
In August of 2015, I decided to start TINGLE Property Solutions, LLC, a Real Estate Solutions Company, located in New Paltz, NY. We set out to buy distressed properties from motivated sellers, who needed to sell their houses for a variety of reasons.
I am still involved with the landscape business, so my wife and I decided to operate the real estate on a part time basis and mainly concentrate on wholesaling houses, to make a name for ourselves, and to earn the capital we need to pursue bigger projects.
How We Found Our Deals
Since I have started TINLO Property Solutions, LLC, we have been able to market ourselves and get our name out there. We have and continue to network with other investors, build our buyer's list, and have had many leads come our way.
After 7 months in the business, we have closed on our first deal, profiting $5.000. We have just found a buyer for our second deal and plan to close on that in the near future
We found our first deal on Craigslist. It was a 4 bedroom 1 Bath, 1500 square foot house. It was the perfect house to rehab, needing cosmetic repairs. It took a little time convincing the owner that we were legit, and getting him to believe in us and in trusting us.
Our second deal we are currently working on, the seller answered one of our marketing ads. This property is a 4 bedroom 2 baths, 1700 square foot house that is in very bad shape. We were able to negotiate an acceptable low offer, which allows us to sell at a low price and still make a profit.
We are still fairly new at this real estate business. As with any new business, it takes time, patience, learning, and educating. There have been things we like and things we do not like about this business. The reward of success that we experience was great. Even though we didn't make a whole lot of money on our first deal, we were successful in following the systems we learned, and being able to help someone out of their current situation is a great feeling for us at TINLO
Things we do not like about the business, are the fact there is a lot involved in setting up and running this type of business. It can be tough at times and a little slow in getting leads. It is frustrating when an offer is rejected or when a seller is not on board with you trying to find a buyer for their property.
We here at TINLO Property Solutions, plan on continuing our success by educating ourselves, networking, marketing and building up our real estate business. We look forward to our Real Estate Investing Journey!
Sandor Gross
New Paltz, NY