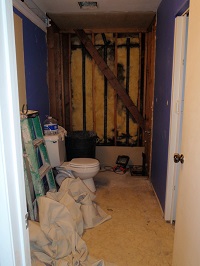 I was notified of a rundown Duplex listed as a $38,000 from one of my automated systems I have set-up to notify of when certain types of property become available and match my investing criteria.
It was a VA foreclosure listing and when I went to walk the property I found that the owner, who was an Old Vet, was attempting to rehab the property himself and most of the work was not completed.
We discovered that he had torn out the bathrooms, the kitchens & completed some rehab including updating the mechanicals, but he had passed away before completing most the work and installing the kitchens & bathrooms.
I lowballed it and submitted an offer for $13,500 & was ignored. 6 weeks later after two snow storms they accepted my offer.
After investing $3,500 in rehab the Duplex was ready. Luck may have it that a friend referred me to a couple of retired guys living in a moldy singlewide mobile home. Their story was that they were paying lot fees of $425 & another $375 for the rent-to-own trailer. They were tired of frozen pipes, Lot fee increases & no room/privacy as each now had a "girlfriend" staying over.
Once I arranged a meeting with them at the property I showed them the original listing & they offered $38,000, @ 13%, 20 years, no money down but wanted a Lease-to-Own, because they both had outstanding liens & ex-wives chasing them down.
I assumed the 13% was what they were paying to "buy" the Duplex. The offer was accepted & it was drawn up & filed. Outlined in the papers was that they pay all taxes, insurance & are responsible for all maintenance.
It's been an uneventful 15 years of on-time payments & the $80,000+ return on investment to date has been a $WINDFALL$!
Patrick Lewis
Buffalo, NY