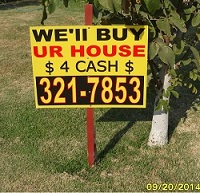 I'm still in shock how this deal came together. I put an "I Buy Houses" bandit sign in my own personal front yard maybe a year and a half ago. I got about 6-8 calls initially from people in the neighborhood looking to sell, but as usual they wanted close to full value.
I told my family that someday that sign will pay off even though I was questioning myself if it would ever really happen.
Then one day out of the blue I got a call from a lady named Roberta, she tells me she lives in my neighborhood and saw my sign. She explains that she wants to help her Mom sell her house because she is going into a senior care home. I got her info and explained I would do my due diligence and get back to her.
I determined the value of the house was $160,000, it was an older house in a good working class neighborhood that had been updated with new windows. I kind of had an indication that they were motivated when Roberta tells me they don't want to go thru a realtor and just wanted to sell quickly for cash.
I wrote up an offer for $102,500 and mailed it off.
I was shocked when Roberta called a few days later and told me that they accepted my offer. In fact I asked, "What did you say?" She tells me again – we accept your offer. I replied OK that's great, I got her email and sent the contract to her and had it signed by her Mom and returned in a few hrs.
I added $10K to the price and sent it out to my buyers. It didn't take long and Roberta was calling saying there were some guys here looking at Mom's house. I said oh those are my partners. Well, Roberta and Mom actually invited them in and showed them around that property.
My buyer said he wanted it, but the air conditioner was not functioning. Roberta wouldn't budge on the price so I told her my partner and I will try to work it out. My buyer is a Realtor Broker and he said he had it sold for $115,500 and he wanted to make $6K
I told him I will lower my fee to $8K and you take $5K and let's do it. It took a few hours and finally he texts me back, Ok let's do it.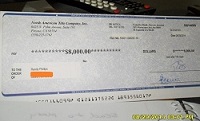 It took exactly 3 weeks till I was at the Title Company picking up my check for $8 LARGE Grand – which I made from a $3 "I Buy Houses" bandit yard sign.
The kicker is, I never put any earnest money down, I never met Roberta, I never seen the house even though it was nearby.
Roberta emailed me to say thank you for my help and was surprised how quickly and painless it all was to set-up and close this real estate deal.
Here is the total breakdown of this wholesale real estate deal:
Value – $160,000
Purchase Price – $102,500 (To Seller)
Wholesale Fee $8,000 (To Me for putting the deal together)
Then my Realtor/Broker/Partner flipped it and made $4,300 to an end buyer-occupant.
I will NEVER forget this deal – I just purchased the truck I had been drooling over with my profits. Take a look – ain't she pretty 🙂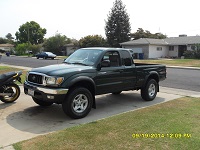 On to the next deals…. Let's make some $MONEY$…. 
Randy Phillips
Clovis, CA