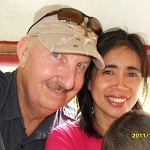 It's really amazing how this deal came together. I had been struggling for several months to get some deals going, I had a big wholesale deal and a few other small deals fall thru. I was getting worried and a bit depressed and frustrated. Then out of nowhere, I got a call on one of my Craigslist ads.
The seller, a lady named Sandra, tells me she had a duplex that she purchased to fix up, but something came up and that she just wanted to sell it fast. She explained that she had been trying to sell it on Craigslist for $60K. However she was willing to sell to me for $50K. I then asked, "I have Cash, is that the best you can do?" She then tells me she can do $45K or $40K.
I checked out the property on Google maps and Zillow. Turns out it was just a small 1300sqft "Single Family" older house that had been turned into a duplex with 1/1 on each side and is now boarded up. I called her back an explained, Sandra, I can only pay $25,000 for your Duplex, but it will be in Cash. She asks, can you do $35K? I then tell her, if you will take $30,000 I will buy it. Without hesitation she says "SOLD"
I emailed her my contract and told her to sign it and get it back to me ASAP. She then tells me she will have to go to Staples to get it printed and will get it back to me in a few hours. While waiting I emailed the address to my buyer whom was buying a few others I had in the pipeline. He's a licensed Realtor/Broker with his own company. Within 20 or 30 minutes he had run comps, & he was calling me back and saying he will take it for the $35K I was asking. He came back so fast I was thinking, wow, maybe I should have asked for $40K.
I emailed him my Assignment of Contract and he had it signed and back to me in a few minutes, way before I got the contract back from Sandra. It was past a few hours and I was getting a little anxious and worried, I called Sandra to ask if I should drive the 45 minutes to pick it up. She says, oh no, I'm a single mom and I have to pick up my daughter from school and I will run over to Kinko's to fax it to you.
I finally received the signed contract from Sandra and my buyer immediately starts Escrow the very next morning. Of course it's never as easy as you think and if anything can go wrong it will. Title Company finds $16,000 in city liens and back taxes, then the seller tells us she has a silent partner that lives in a garage and is a druggie and somebody offered them $40K for the Duplex.
Unbelievably, my buyer agrees to pay the liens and increase the offer to $40K. After a few weeks of bickering and fighting amongst themselves, Sandra and the druggie get into Title Company and sign the papers. It took another 3 weeks for my buyers' buyer to get his IRA funds in order.
After struggling for months and then to have this deal almost fall apart multiple times was aggravating and frustrating, dealing with the sellers turned out to be an experience from hell.
Step by step, this is how it played out:
I placed an ad on Craigslist – "I buy houses for Cash"
Seller calls and I got it on contract
I called my buyer and sold it.
End Buyer started escrow in 24 hours.
Actually ended up taking 5-6 weeks to close the deal.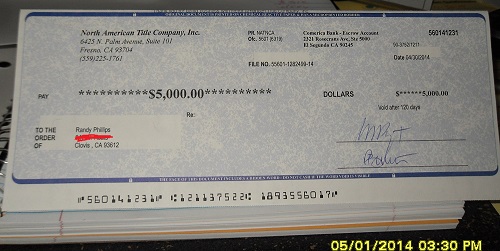 Profits for this real estate wholesale deal looked like this: I made $5K, my Realtor/buyer flipped it and made $6,800 for themselves. Sandra and the Druggie made $20K each. What's really crazy is, I did finally meet my buyer by accident when we both showed up at Title to claim our checks, however, I never seen the property or met the sellers.
This all happened while I sat on my butt in front of my computer with sending a few emails, texts and making a few phone calls. Not a bad deal for everybody involved.
Randy Phillips
Clovis, CA