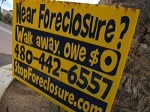 I have been flipping properties to buyers in St Louis for 14 years. My brother and I started our real estate investing flipping company to HELP Pre-Foreclosure families back when the "Housing Implosion" was just getting serious and affecting so many families.
Our real estate investing marketing tool used to find properties and deals consisted of only one "Bandit Sign" – placed in a very busy intersection every Friday evening and removed on Sundays to avoid code violations and removal from the shopping center property management.
One of the most touching moments in our investing career was back in 2011. Our Bandit Sign netted us a special deal when one of the homeowners who called us to save them from foreclosure was an older widowed woman who was on Oxygen and she smoked too.
My brother and I understood that she wanted to remain the house until she passed away. We were worried she would blow the house up before we closed. Well, with her living there, things made a tab more difficult because we had rehab projects that could not be done in a hurry and we did not want to tie up our bank line of credit with this deal.
We had to switched our exit strategy to free up funds. So, we found colleagues to work with on this deal and flipped it to them. When we closed (without the house blowing up) my brother and I walked away with $92, 808.91.
As fate would have it, the people that we flipped the property to allowed her to stay for the rest of her natural life. In real estate investing you can be involved in the lives of many and really make a difference in their lives.
Not bad for two boys who just started out with one sign, hope and a prayer. We are still very successful with hundreds of homes bought and sold in our area. Thank you for allowing me to share our story.
Greg Berkland
St Louis, MO