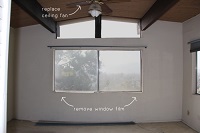 Hi Investors! My name is Erica Henry and I am proud to say that I am a Landlord in the Tacoma Washington area. I have been a real estate investor for the past 10 years.
After I got laid off from Sun Micro Systems tech company, I took my severance check and bought a 4-plex. I moved into one of the vacant apartments and rented out the other three vacant units.
I picked up this "dump" for cheap, because it need many repairs and the previous Landlord died and his daughter lived too far away to care for the property. I purchased the property 380 Stevens Ave for $209,000. I put down a $45K down payment and closing cost and financed the rest through my local credit union.
What I did next – is what made me the most money – Market research. I studied the local rentals similar to mine and focused on the ones that were getting top rent. Other then perhaps better location, I noticed that the top rentals offered new appliances, updated interiors and a open concept floor plan.
So I took the time and put in some elbow grease of my own and turned my "dump" into a hip "shabby chic" dwelling that up & coming hip young professionals would want to live in.
So the old landlord was getting $750 per unit. Each unit was a 2 bedroom 1.5 bath with a separate living and dining off the Kitchen. The top rentals in my immediate area was getting around $800-$995 in the early 2000's.
So I tackled changing five simple things in each unit:
Fresh White Paint to brighten up the place
New eco-friendly wood flooring
Adding blinds and removing film off windows
Adding new ceiling fans to master bed room and living room
Updated Appliances
Each new remodel cost be about $1500-$2000. Sometimes I would hire a handyman to help with painting, putting down the floor and installing appliances. But I always worked along side them.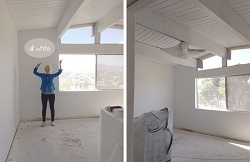 So I finished the first unit and immediately I was able to ask for and get $850 in rent. That's $100 bucks more then the previous tenant and about 12% increase in annual rent collection. After the first year the increases in rent paid off the Home Depot bill. Do the math. I made each unit rent for $850. That equates to: $100 x 4 units x 12 months = $4800 additional cash flow annually.
I am happy to say that I no longer live at my first property and all of my units are rented and this building is almost paid for because I choose a 15 yr note with the credit union.
Much credit should be given to sites like REIClub.com, DIY.com & HGTV. Without those websites I would have not be inspired to be a real estate investor. One time I even tried to get on one of the make over shows on HGTV. I don't think I would have known where to have start or even the guts to be a real estate investor without watching HGTV and seeing all of those regular guys & gals like me kill it with flipping property. I went on to purchase more real estate.
As of present my investing portfolio consists 3 duplexes, a 4-plex and a single family in the same area. I still manage to work part time so I don't get bored at my local Small Business Administration chapter consulting on technology and writing business plans.
One important note: It's always a good idea NOT to live in the same place as your tenants.
Erica Henry
Tacoma, WA