Paul here coming at you from Akron, Ohio. I've been a member of REIClub since about 2007. After listening to couple of their webinars – I think a guy named Larry Goins – I was inspired to start looking for cheap low cost properties.
I had found a bunch of run down pennies on the dollar type homes in the worst part of Akron, OH listed on eBay by out of town investors who just wanted to dump them. Most of them were vacant due to poor management and maintenance.
So I placed a bid on one and picked up a small investment home – a 3/2 1897 sq ft home for $7,027.00. That was my second real estate investment purchase. In 2009 – 2010 time frame eBay was a solid place to find real estate deals before the explosion of Craigslist. Anyway I digress – it was the first home that I had purchased electronically and I was living in Columbus, OH at the time. I used my Visa credit card to fund this purchase. Back then I had a $50,000 credit line.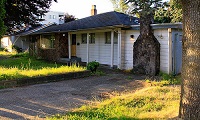 When I drove down to the place it was AWFUL. The pictures they used online must have been taken in the past before the look of "abandonment" set-in. Grass was waist high, window screens were missing, bugs in the sinks, carpet smells and noticed a roof leak.
Let me speed this up, I used that same Visa credit card to rehab the home. It took me $18,500 more or else including a new roof – to get the place marketable for purchase or rental.
During my many rehabbing trips I noticed there was number of recently unemployed older Veterans who were working for the Good Year Plant before being let go. They would sit in the park and play chess. One afternoon, they shared that they commuted to the park and meet up just like they were going to work each day. One guy told me they were "bachelors and had nothing else to do".
After some talking I asked two of them would they be interested in renting my properties as roommates? It would be much closer to the park, and they could save some money. Rusty – said do you take my VA rent assistance check? I shook my head – What!?
Rusty explained that he received rental assistance from the Veterans administration for disabled & homeless Vets. My natural response was – Yes.
I immediately went to the Veterans Administration website and found out how I could be approved as a Landlord. After a getting registered with HUD – I put myself to be in a position to rent my property to Sec 8 tenants, Vets, a few other Government housing programs in the Akron region.
As a Landlord I quickly learned to understand the difference between market rents, HUD rent allowances and voucher values. So that is how I got into "Government Housing". I continued to buy cheap run down properties for under $10K, fix them up and turn around and rent them out. I work full time as an 8th grade math teacher and proud to say that I now own 7 investment properties. Five of my properties are cash flowing and on one type or another of HUD assistance. I do close on occasion a wholesale deal.
Hope some of you real estate investors out there get inspired by this! Peace….
Paul Grimmes
Columbus, OH