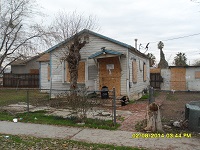 I wholesaled this small condemned shack in a bad area for $5,000. It all started when an elderly lady named Martha called on my "I buy houses" ad off of Craigslist.
She explained she had a small house that she had previously used as a rental that had been condemned by the city and she was willing to sell it. Martha was a friendly talkative person and I must have spent several hours on the phone with her, listening to her stories over the next several weeks.
I immediately made an appointment & drove over to look at the property and meet Martha. I was surprised on how bad the condition of the house was. It had a bad roof, rotting foundation, wooden front porch falling apart and windows and doors boarded up. Homeless transients had pulled off the back siding to gain entry and were sleeping inside at night. It had a notice from the city stapled to the front door saying this house is uninhabitable and is condemned.
I offered Martha 10K and she said Oh No I couldn't accept that amount. She tells me that her friend sold her empty lot nearby for $30K and that is the amount she would accept. Over the next few weeks I would call Martha and try to talk some realty to her, she had confessed there were over $1,200 in code violation fines that were accruing, and the city was threatening to bulldoze the property. Martha flat out wasn't willing to budge on the price and told me to call her when my offer was $30K
There was no way in all the Heavens that I could justify paying $30K on that house. In the meantime my buyer had called and asked if I had anything for him. I told him about Martha's house, and explained the situation that she was firm on her price of $30K and I would need $5K, but I thought it was in such bad shape I didn't think anybody would want it.
Well hells bells, will wonders never cease, my buyer looks it over and tells me to get it on contract that he will pay $35K for it. It took a few more weeks but I finally got together with Martha and she signs my contract, by then the code enforcement fines were over $1,800 and Martha tells me the city just assessed another $500 for some crazy fee and then asked if I would pay her fines. I laughed and said hell no, those are your fines not mine.
Then she says I will only get $2,800. I told her the fines will then be paid and off your back. She looked off in the distance and said "I wonder what my deceased husband would do". Her daughter says, "Mom, I think Dad would want you to get rid of this problem. She looked at me with a spark in her eye and asked – Do you know what I'm going to do with this money? I'm going to remodel my 2 bathrooms. I told her, all right, that would be nice.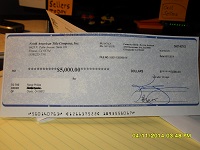 It was about 10 days later the Title company calls and says my check is ready to pick up. Along with my check was enclosed a Final Settlement Statement. It seems Martha had to pay $2,700 in Code Violation fines and back taxes.
My assignment fee was $5,000 I was shocked to see that my buyer who is a Realtor/Broker made $17,000 for his assignment fee. Along with closing costs, his buyer paid $53,176 for this house that I thought wasn't worth $20K on a good day.
The biggest surprise to me was that anybody would pay $54K for this 800 SF Junker in a bad area. And second that my buyer immediately flipped it for $17,000 I don't know whether to be pissed off or happy for him. I know I should be happy to make the $5K. However, I will reevaluate my assignment fees in the future and consider raising them by perhaps 50%.
I went for 4-5 months with several deals falling thru and now have 4 wholesale deals closing this month for a grand total of $27,500 Only because I never gave up. Let's make some MONEY!
Randy Phillips
Clovis, CA