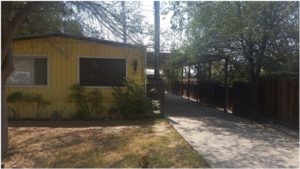 I purchased a list of Absentee Owners a few years ago that I continue to send out post cards to. This was my 3rd mailing. This mail out round – I got a poor response rate with only a handful of calls. Don't feel too bad for me – I did complete one deal that paid out $5,000 from this mailing! So I spent about $1,500 mailing out post cards to this list of 2,500 absentee owners. Of course I considered it a success that I tripled my profit off of this investment.
But listen up – Investors – it gets better. I get a call from an owner named Paulette later on down the road. I drive over to see her property, it was a Mobile home that needed some work and it sat on ¼ acre. Paulette tells me she paid $80K for it 8 years ago and then got married and has been renting it out for over 6 years. Now she was at a point that she was just sick and tired of the bad renters & repairs every time a renter moved in & out and she just wanted to get rid of it. She was a motivated disgruntled Landlord.
She then tells me she owes about $26,000 to a Private Lender and it will take $30K for her to walk away. It seemed like a great deal and I was even considering keeping it myself except for the fact it was an hour away in some small cow town out in the Country. I moved forward and made her an offer.
I got my wholesale assignment contract signed and sent notice of my "deal" out to all my buyers and waited, and waited some more. Nobody wanted it. That's when I started advertising on Craigslist for $48K.
Even then I wasn't getting many calls. Finally a lady named Christine calls. She tells me she lives 2 doors down and she wants it for her son. I gave her the code for the lock box so she could look it over. She calls back and says they want to purchase it as it. She never tried to negotiate a lower price like my cash buyers do.
Then she tells me her son is getting a large cash settlement. I was a little worried and Christine assured me it will happen. I had her start escrow and sign my assignment contract for $18,000 and deposit a $1,000 nonrefundable earnest deposit with the Title Company that would revert to me after 30 days if she couldn't perform.
I assumed Paulette (ownder of mobile home) was keeping up the payments and was shocked when she calls to tell me that she owes a lot more than she thought and she had to cancel our deal and was just going to give it back to the lender. She told me the lender called and said there was back payments due and huge late fees and penalties due.
Hold on Paulette, we have a contract! I asked her to give me the lenders contact number. She give me the number of Elizabeth, the lenders daughter. I was a little frantic and I could see my 18 Grand going out the window. I immediately called Elizabeth and told her my name and that I had a contract to buy this Mobile home. In a snotty voice, she tells me that Paulette has no right to sell that home because it's not hers to sell and she's 2 months behind on payments and it's in foreclosure right now.
In a calm professional tone, I tell her that Paulette is on Title as owner and has every right to sell her home, the lender only has a lien on the property for what's owed, and that's how that works. In her snotty voice she tells me, well, I'll have my dad give you a call.
A short time later my favorite Title officer calls. Randy this is Sherane, do you have that mobile home on contract? Yes I do. Do you have a buyer? Yes I do. Is it in Escrow ready to close? Yes it is. Well Elizabeth just called me, and I got the seller Paulette scheduled to come in to sign a Deed in Lieu. Remember the foreclosure comment from before…
Then Sherane asks if I want her to straighten this mess out and get it back on track. I tell her, heck yea.
I called Paulette back and tell her: "Paulette, you have about $3,500 coming and I got this mess straightened out". Paulette nervously responds: "But the lender told me I owed a lot more than $26,000". I tell her "oh no, he can't over inflate what's owed. He gets what owed and that's it". She was so grateful and thanking me at the end of the call.
We got the first escrow cancelled at the original title company and transferred to Sherane's Title Company and also the $1,000 earnest deposit released to buyer. Christine called and said the settlement funds had been released and they received the check but the bank was putting a 10 day hold on it. She was a little frantic about it going past the 30 days I gave her and wanted an extension in writing.
Finally the check clears & she gets an appointment to bring in the cashier's check to Sherane and sign the paperwork. Everybody was happy on this deal, except for the greedy lender.
I'm really surprised how I can make so much money from a $1,500 direct mail marketing investment and all the twists and turns it takes before the deal plays out. I also have another property on contract from this mailing that nobody wants, it's even farther out in the country.
Let's make some Money…Randoskie
Randy Phillips
Clovis, CA