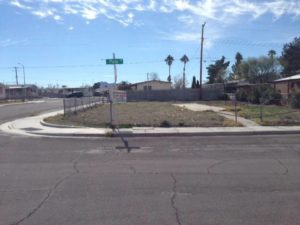 Hi Guys, I am so excited to report that my real estate investing in Vegas is going well. I am a part-time investor who has a full time job, a busy Dad and I love to coach youth sports. I wanted to find a way to earn some extra cash to support my hobbies.
When I first got started in the real estate investing biz I was rehabbing houses with my Brother-in-law. After completing 3 rehab deals – I was kind of "over" the fix-flip hype. Don't get me wrong we made great spreads on the deals but the time, energy and risks involved were more than I could handle.
My very next deal I did was solo. It was a FSBO single family home that I wholesaled and I made $5,000 profit!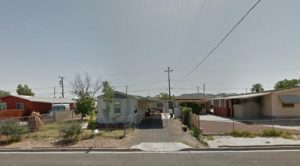 Which bring me to today's exciting news – I FLIPPED a lot of vacant land!!! I've been driving by this empty lot for a while now. It's in a neighborhood of established Mobile Homes & Manufactured Housing. In doing my research I found out that many Senior California residents have been moving to this part of Nevada for the easy way and lower cost of living.
I called the number on the sign and found out it was a broker for the HOA of the neighborhood. In this "subdivision" there are no lot fees – you buy the land or land/home outright and you just have a HOA monthly fee. Cool thing is that the shared amenities included a: swimming pool, community clubhouse with kitchen, billiards room, laundry facility, car wash bays, maintenance of common grounds. Heck after reading that I wanted to move there.
After a few exchanges with the Broker, he told me if I brought him a buyer he would pay me a finder's fee. Since he had it listed for so long and was anxious to get rid of it he was very willing to work with me. We agreed to $500 to max 3% "finder's fee" which ever was greater. So I guess I was his "Bird Dog" like I hear some of the guru's refer to on deal set-ups like this. What do I know? I just wanted an easy check.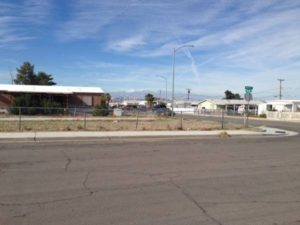 Land/Lot Sale Info:
$23,000 (corner lot)
Lot 60 x 100
HOA $60.00 per month
So how did I find a Buyer? Craigslist.
I went into the Las Vegas – Housing – Real Estate Wanted Section. I was blown away by all of the investor's and wholesalers posts but unmasked 4 promising leads. They were all people looking for land to buy to park their RV/Mobile Home.
Most of them were from out of state. I responded to all of them letting them know I had the perfect lot to BUY not RENT. I began to quickly find that out most land that mobile homes/rv/trailers are set-up on are leased and have lot fee. Rarely do you find the opportunity to "BUY" your lot.
Two of them responded to me and asked me for more pictures and information regarding the neighborhood. I sent them pictures, a quick 360 video of the area and the amenities. A retired Couple from Oregon told me that they were very interested and could I send them a sales contract. Say What!
So I called Gerry back up (the broker) and told him I might have a live one and gave him contact info for Ted & Ann Murray. Being a complete newbie at this – I was kind of worried about being cut out of the deal since he was an official broker and all.
A week goes by and I am getting anxious so – I send him a "Hi – any news on the lot" text. He replies he is waiting for Ted to send back a signed contract and proof of funds information. Ok…so I busy myself with getting my son's basketball team set-up in the mean time.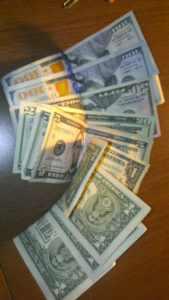 So I get a text from Gerry about 2.5 weeks later to come to the office to "close out". Turns out Ted & Ann purchased the lot for $19,000 cash and did some type of closing in Oregon while Gerry did his thing on this end here in Las Vegas.
Gerry called me into his office and presented me with $570.00 CASH! I took my cap off and just sat down. I did not know what to expect so this was a total surprise. Next stop was the gas station to buy a six pack. Then I sprinted home to give half the money to my Wife. Glad I remembered to snap a picture of my earnings. I still could not believe it.
Keep Calm & Flip Real Estate!
Bob Westwood
North Las Vegas, NV