This success story is about my third real estate deal closed. Whoop Whoop! I wholesaled this deal to a local rehab investor that I have worked with in the past named Daniel Santana. I closed my first wholesale deal back in early December working with Daniel. I sent him an email thanking him and wishing him a successful New Year back in January. I asked him what kind of deals is he usually interested in and would it be ok if I found one that meet his criteria if I could refer it over to him. He responded back – heck ya!
I kept looking, looking, trying hard to find a deal for months – until I found this beauty.
I located this single family from a tax auction listing that was struck off. That usually means someone paid the taxes right before the auction or I think before any official foreclosure happens. Due to the many military relocations or long deployments – I was told this was common.
I pulled up the tax assessor record to get more information about the property and the owners. I noticed that it had one owner since the records went back to 1969. Got me thinking perhaps there was a death or older person in a pickle. So I decided to drive by the property.
Here are the details about the property:
TAX VALUE PRICE: $56,000
Richmond, VA 23222
2 BEDS & 1 BATH
APPROX 900 SQFT
BUILT 1969
I knocked the door but no one answered. I walked around, took a few pictures, and knocked on the neighbor's door. I asked them if they know if the neighbor needed help cutting their yard and they told me that "Alfred" moved to the nursing home the previous month and his son would be the one to ask about the grass. I asked can I have his number and at that point you could tell the mood of the neighbor change and they said good bye & closed the door in my face.
Not one to give up – I sent a letter to the house address thinking the Son is probably checking his Dad's mail as well. Simple letter that just explained I was interested in buying his property.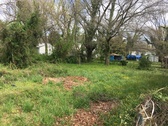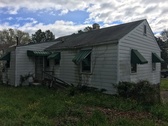 Now being a Newbie Investor I was kind of unclear of what to do next if he called or wrote back to me – telling me that he was interested in selling.
I did the next best thing I could think of — I called Daniel. He asked about comps, work needed, and price of home. I had no sold answers for him – so I got to work. Good thing I did – because 2 weeks later I got a call one evening from the Son explaining he wanted to get the property off his hands. WOW WOW WOW!
After meeting him back at the house and taking interior pics – I ask him what he wants for it. He says "uh…make me an offer, I know it 's not worth much and needs work, but I at least need to recoup the taxes that paid and have something left over to cover Dad's expenses.
Not wanting to lose or mess up the deal – I told him let me talk to my partner and come up with fair offer. At that point I asked for his email and if he had any other relatives that would need to be involved in the deal. He said no and that he had power of Attorney.
I called Daniel back and basically gave him the deal to close and asked for a reasonable wholesaling fee. I was kind of unsure as to what offer/set as an ARV/estimate work needed – since the age of the house was so old and in an older neighborhood.
Fast forward 3 weeks later…..I got a call from Safe Harbor Title Company. WHAT A SURPRISE! They asked that I fill out some forms so I can get included in escrow procedures and needed banking information for me. Daniel Santana is a honest man and investor.
Daniel offered them $13,500 cash for the property and I was to be paid $1500 for "my services". So all together he purchased the property for $15,000. I called to thank him and find out the inner makings of the deal and how he did it.
Wholesaling my third real estate deal was quite a learning experience. Sure was nice to log into Chase one day and see ACH credit for $1500!!! So next deal I think I won't feel like a complete newbie and I will have my own contracts by then.
I've been attending more investor meetings so I can network with more rehabbers and currently looking for a hard money lender just in case I need to start closing these deals for myself.
WHOLESALING HERE I COME!!!!
James Elizabeth
Norfolk, Virgina