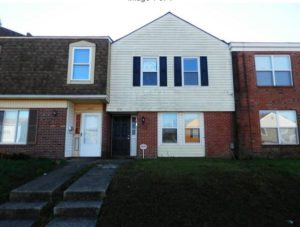 This success story is about my second real estate deal closed- EVER! Where should I start? After doing my first rehab real estate deal with my brother-in-law – I walked away with $6,234.86 as my share of the profit. I was hooked to real estate investing once I walked out of closing with the check!
I wanted to do another real estate deal right away, so I thought I would try my hand at wholesaling because rehabbing took too long to complete & sell in my opinion in the Norfolk area. After listening to a few webinars on here and getting a course on flipping houses I finally worked up enough nerve to do a deal. I just decided to pull the trigger and submit an offer on properties I thought were good first time deals. You know how it goes – low ball offers get rejected all the time. I kept trying until I found this beauty.
I located this townhouse deal on craigslist.com.
I drove by there and pulled up Zillow comps before calling the listing. Norfolk is a military town and small homes like this appeal to retired military bachelors. That was along the lines of my thinking when I saw the size, location, and price.
Here are the details about the property:
SALES PRICE: $112,500
1305 SF TOWNHOUSE
2-3 BEDS AND 1 BATH
COSMETIC WORK, CARPET AND PAINT
REAR ENTRANCE GARAGE
The craigslist contact info listed to send email inquires only. I thought that was odd – but sent a request to see the property. The interior was dated, needed some fresh carpet, paint, and updated bathroom fixtures. The appliances all were working and the cabinets were in good condition. The Owner had an adjoining wall knocked down between two of the bedrooms. Here are two pictures that I took at the initial walk through.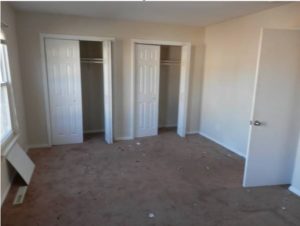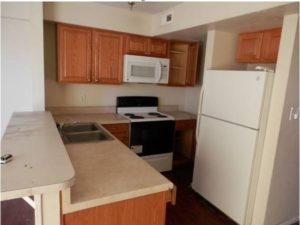 I explained to Peter (Owner) that this property requires plenty of TLC and I definitely would have to replace the missing wall to restore the 3rd bedroom. Told him, my funds were limited and I will have to call him next week as my money was insufficient to handle both the purchase price and repairs.
He offered IMMEDIATELY to owner finance the deal to me if I gave him a down payment of $10,000. Huh? I could not believe my ears. After sleeping on the deal I called him back and told him I needed a week. That week I worked frantically to find a buyer or another wholesaler as I was not interested in doing ANY PART of this rehab myself.
I sent an email to my real estate club president and just like that I had a BUYER/INVESTOR named Daniel Santana. I almost forgot tell you about the comps for this property: in great condition ranged from $130K – $150K. Daniel offered the Owner $105K cash and at closing I was listed on the HUD for a $5K payout.
$5000 – that was 80% of what I made on my rehabbing job – and all I did was send a few emails. For me it was so much easier and so much less stress then rehabbing.
WHOLESALING HERE I COME!!!!
James Elizabeth
Norfolk, Virgina